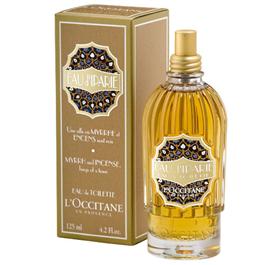 Eau D'Iparie is a beautiful warm fragrance. It wears closely to the skin and smells rich and warm without being sweet.
L'Occitane describes the fragrance as such:
"A town of magical fragrances. Imagine a place where myrrh and incense reign – Iparie. Its generous walls contain a blend of precious resins. The air is filled with myrrh and incense, a blended scent which is like a limitless gift. Transported along the ancient incense road to the eastern Mediterranean countries, these rare ingredients are now combined to create the intense, sensual and mysterious wake of Eau d'Iparie"
Pretty mood evoking, huh? Well, I'm sure ancient incense road journey isn't as pretty smelling as L'Occitane is claiming. The scent is warm, woody, and a bit tobacco-ish. It opens with a cedar, myrrh and an earth patchouli. The heart is resinous and spicy. The dry-down is a sweeter amber and dried pipe tobacco. It's mood is warm and dare I say "exotic".
It retails for $68 on Amazon.
---
*Product purchased by me. Product pic from the brand. Post contains an affiliate link. Thanks!