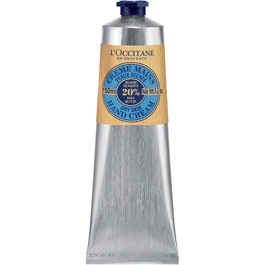 L'Occitane Shea Butter Hand Cream is a fairly simple product that does what it is intended to do: moisturize hands. The formula is very smooth and rubs in easily. It is a white balm that is smooth as butter.  It is smooth and spreads very easily, meaning that you don't need too much to have soft hands. It is moisturizing and you can tell that it is on your hands. I wouldn't call it greasy but you can tell that it is there. It isn't sticky or slippery. The formula doesn't get all over my steering wheel or on my paperback books. However, I do have super dry hands that go through hell in a work day. As a speech therapist, I wear latex gloves frequently and I use alcohol based hand sanitizers and I use harsh "institution" grade hand soaps so many times throughout the day. My hands are often tight feeling and ashy. I have been having a real problem with "ashiness" during the cold weather.
There is a scent but it is faint. I only smell it while I am rubbing in the cream. I would say that this scent lingers around for about 2-5 minutes on me. I get a super soft aroma of a tropical bouquet of ylang-ylang and jasmine. But, like I said, it doesn't stay around. I do like this. I am a fragrance nut and I don't really want my hand cream interfering with my choice of fragrance for the day. And I do love anything jasmine even it is there but only for a short amount of time. This provides a quick fragrance pick-me-up.
The packaging is cute but not very practical. I do wish that it had a flip cap so I could open and close it with one hand. It is no fun dropping that cap and having it roll under the bed.
The formula contains 20% shea butter, vitamin E, sweet almond oil extract and other nourishing ingredients.
It is a nice product but it is expensive at $28 for just over 5 ounces. I know I will buy it again but I won't be purchasing a tube for my purse, my desk, my car, one for each bathroom, etc. I can't afford that. Smaller sizes are available and throughout the year gift sets are offered.
It's available at Amazon and Nordstrom. 
---
*Product purchased by me. Product pic from the brand. Post contains an affiliate link. Thanks!